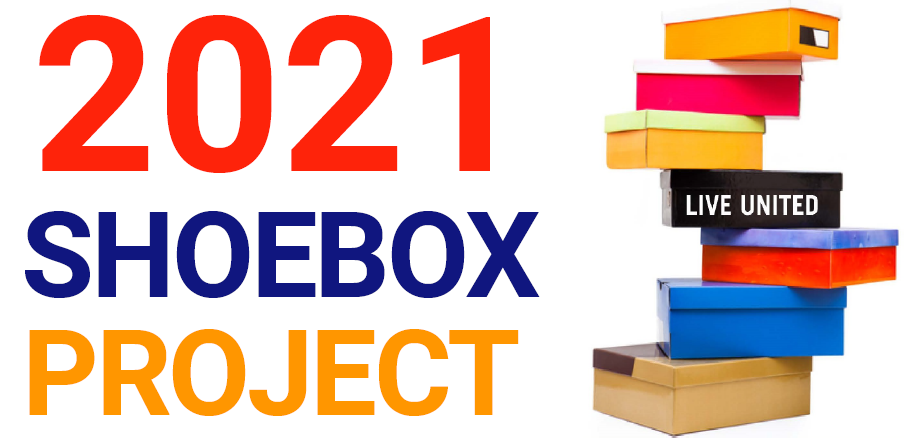 United Way of Southwest New Mexico is mobilizing our community to provide personal care and basic need items to our most vulnerable residents. Every day items most of us take for granted, like toothbrushes, soap, or a comb can make a big difference for someone living in poverty or experiencing homelessness. Believe it or not, some of the most important essentials people need can fit right inside of a shoebox. That's why United Way will collect decorated shoebox care packages and personal care/basic need items from individuals, families, and organizations from around the region. Join our efforts to help those in need in our community!
You can help to create personal care packages by donating a decorated shoebox filled with personal care and basic need items between September 1st - September 30th, 2021.
The shoeboxes will be redistributed to Mesilla Valley Community of Hope and La Casa Inc. 
It's easy to participate! Just follow the three simple steps outlined below.
Step 1: Fill your Shoebox with Personal Care and Basic Need Items
Grab an empty shoebox from your closet and fill it with a selection of items listed below.
| | |
| --- | --- |
| | Travel size hand sanitizer |
| | Toothbrush and toothpaste |
| | |
| | |
| | |
| | |
| | |
| | |
We can only accept items on this list. Please no medicine, mouthwash, food, sewing kits, razors, or used/opened items.
Step 2: Decorate your Shoebox
Have fun! Be creative and decorate your shoebox with stickers, wrapping paper, greeting cards, fabric, ribbon or other items. Those who receive your shoebox will feel like they are receiving a special gift.
Step 3: Drop-off your Shoebox
Bring your shoebox to the United Way office, located at 1401 S. Don Roser, Suite A2 in Las Cruces, NM.
You can also drop off donations at:
- Washington Federal (Both Locations)
   < 1800 S Telshor Blvd., Las Cruces, NM 88011
   < 301 W Amador, Las Cruces, NM 88005
- Any WestStar Bank Locations in Las Cruces or El Paso:
    < 555 S Telshor Blvd, Las Cruces, NM 88011
    < 6700 N Mesa St, El Paso, TX 79912
    < 500 N Mesa St, El Paso, TX 79901
    < 9343 Alameda Ave, El Paso, TX 79907
    < 4721 Hondo Pass Dr, El Paso, TX 79904
    < 1790 Lee Trevino Dr, El Paso, TX 79936
    < 425 Redd Rd, El Paso, TX 79912
    < 8865 Viscount Blvd, El Paso, TX 79925
    < 8340 Gateway Blvd E, El Paso, TX 79907
    < 5604 E Paisano Dr, El Paso, TX 79925
    < 12101 Montwood Dr, El Paso, TX 79936
    < 120 N Kenazo Ave, El Paso, TX 79928
For more information contact Amanda Morales at
impact
@uwswnm.org
 or call the UW office at 575-524-7561.